Description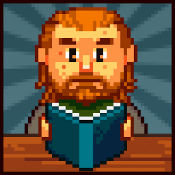 Knights of Pen & Paper 2 v2.0.5 Mod APK + DATA for Android.
Here be Dragons, takes your heroes to the kingdom of Expandria! Travel across land, sea, air – fight your way through caves and on occasion mud in an epic quest.
Prepare to join Knights of Pen & Paper 2 in a turn-based, retro style, pixel-art adventure full of danger, intrigue, and semi-appropriate cultural references!
Players portray both party and game master playing a tabletop RPG, and must assemble both their characters, and the challenges they will face.
"There's something genuinely pleasant about Knights of Pen and Paper 2, especially if you're a fan or tabletop role playing. It pokes fun, but it's always warm towards its subject matter."- Pocket Gamer
"a great little RPG that presents excellent value for money with much to love."- Continue Play
Great new things in Here be Dragons!
• All-new high-level campaign with Increased skill cap!
• New side quests, locations, crafting recipes etc and so forth.
• Dragon fights and a Mad King!
Main features:
• The ultimate retro role-playing simulation – again!
• Fully customizable party, from the players to the game room.
• Expanded equipment and crafting systems.
• All-new campaign featuring dozens of locations, sidequests, and dynamic dungeons.
What's New
v2.0.5: Here be Dragons
Free:
New class: Knight (unlocked via quests).
New roleplayer: Bookworm (unlocked via Modern Dungeons magazine).
New feature: Bestiary.
New Modern Dungeons Magazine
DLC:
All-new high-level campaign!
Dragon fights!
New locations!
1 new dungeon!
New crafting recipes!
Increased skill cap!
Mad Kings!
Did we mention dragons?
v 1.1.92: Compatibility Patch
Android 6 compatibility fixes
Updated Everyplay streaming functionality
Miscellaneous bugfixes
Download [Google Play]
Knights of Pen & Paper 2 v2.0.5 Mod APK + DATA | Mirror 1 | Mirror 2