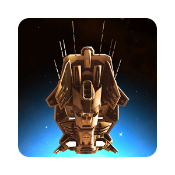 Build your fleet, arm it with tons of weapons and make all of your enemies' burn.
Perform expeditions to outer space; take care of your crew's morale as it greatly influences your power.
Research tons of techs. You can't open all of them in one play-through, as there are lots of combinations.
Fight with different opponents. Each faction has its own tactics and technology stack, so you should plan your fleet equipment carefully.
Key Features
Great RPG/TBS mix with unique depth.
Randomly generated universe – each mission is unique every time you play it.
Long and interesting storyline.
Battle against 4 different factions.
Epic space turn-based battles.
Laser, Kinetic, Plasma and Explosive weapons: each with unique pros and cons.
16 main missions
20 sub-missions
Lots of battle ships with modifications
Over 100 technologies in 4 different branches – choose them wisely.
Tons of different items, from engines and shields to drones and infiltration squads.
ABSOLUTELY no in-apps.
Great visuals
What's New
Upgrades are now more powerful but also more expensive
Ship's armor greatly increased
Bigger resources gain from missions
Many other balance improvements
Bugfixes and stability updates
How to Install?
Download the apk and data file.
Install APK file
Extract and copy the OBB folder in SDcard > Android > OBB > com.mozglabs.spacefantasy
Done !!