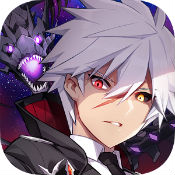 Innocent Bane v1.0.1 Mod APK for Android.
Tokyo is being ravaged by monsters in Innocent Bane!
Players win dynamic battles to protect the city by pulling and slinging 400 unique characters against enemies.You'll embark on quests, go on raids, and cooperate with friends to take on tough bosses!
FEATURES
▶ Attractive anime graphics
▶ Epic story line featuring super-powered kids
▶ 'Pull and sling!' action with easy controls
▶ Tons of quests and side quests
▶ Lots of Multiplayer content including PvE Boss Raids and PvP Battles–cooperate or compete with your friends
▶ Collect more than 400 characters. Enhance, evolve, and mutate them to make them stronger
▶ Make strategies with your own unique team, by combining the abilities and skills of each character
Mod info: Credits to iAlex
v1:
[.1.] Boosted ATK 
[.2.] Boosted HP 
[.3.] Boosted Distance

v2:
[.1.] Swipe and win
How to install?
Download and install tutorial apk and finish tutorial.
Download and install mod apk. No needed to uninstall tutorial apk, it will overwrite.
Enjoy!
Download [Google Play]
Innocent Bane v1.0.1 Tutorial APK | Mirror 1 | Mirror 2 | Mirror 3

Fixed-Innocent Bane v1.0.1 Mod APK v1 | Mirror 1 | Mirror 2 | Mirror 3

Innocent Bane v1.0.1 Mod APK v2 | Mirror 1 | Mirror 2 | Mirror 3