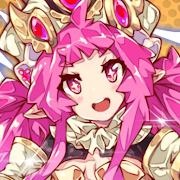 Infinite Worlds Mod APK + OBB latest version download for free.
With the Time and Space Gear of the universe as the main body, the world in multiple times is rotated by the various points of the Universe Wheel. Worlds are divided into the center, the middle and the periphery according to their positions on the wheel.
In D.Y. 1506, the Universe Wheel began to fall off and collapse for no reason. Disasters occurred at many worlds – earthquakes, ground collapses, volcanic eruptions, floods. Worlds were gradually breaking away from its own orbit and shrinking toward the center. The collision between worlds will eventually cause the collapse of all worlds.
Located in the center of the Universe Wheel, this world – Initial Tree's sky was tearing apart. A crack showed up in the sky, various creatures or even invaders that were from another world appeared in the crack.
At the capital of Initial Tree, Queen Efalia called all warlords of Apocalypse Knight and asked them to summon adventurers from other worlds with Grail of Apocalypse. She wanted that these adventurers from other worlds can help her defeat invaders and save the world.
You, as an adventurer, are you ready to defeat powerful and evil creatures and save the world?
[Recruit adventurers]
There are human, elf and dragonborn adventurers. A reasonable combination of different races during battle can defeat the enemy more easily!
[Fight and protect]
Turn-based battle, form your team and use skills wisely to defeat stronger enemies. Auto-battle is also available.
[Construct your city]
Use the honor points to upgrade buildings in the town and unlock more functional buildings.
[Upgrade and Ascend]
Use resources to upgrade and ascend heroes. Form your team with stronger heroes to defeat powerful enemies.
[Smelt and Craft]
Create experience books in the smithy to upgrade heroes and create equipments for heroes.
Mod info:
1. Menu
2. God (2 DMG)
3. High DMG
Root required? No,works on both rooted and no-root Android 4.1+
OBB required? Yes, follow instructions below to install.
How to install?
1. Download and install Mod APK from the link given below, after installed, don't run the game yet.
2. Download the obb file then extract the obb folder "com.lemonjamgames.worldtale" to Android/obb (You might need ES File manager / X-plore file manager / Root explorer (Android 11 users need this) and ZArchiver / RAR for Android to extract the obb file if you haven't had one of these similar tools installed)
3. Done! And make sure you have "overlay" (display over other apps) and storage permissions enable.
4. Tap on the menu button to enable/disable mod features.
Download [Google Play] – (Early Access)
Infinite Worlds v1.0.12 Mod APK