Description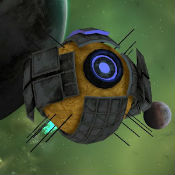 Indroid v1.0 Mod APK + DATA for Android.
Play on 5 different worlds against 5 unique bosses on 50 levels.
Choose from four different parasite droids. Each of them has its own special advantages and disadvantages. Take over hostile droids and use their weapon systems to defeat another droids. The aim of the game is to defeat the five unique end bosses. Each level has its own portal protektor droid, which comes, when you couse too much trouble. The main aim is to defeat the last boss on each level.
At the time there are 50 game levels in this game and each level will be generated randomly. The randomly generated maps improve the replayability of this game.
The parasite droids can achieve level 80 and each level gives you an upgrade point. The upgrade points can be distributed in 18 different skills.
Hardware requirements: At least 1 GB RAM and Mali-400 MP2 or equivalent! This is the minimum requirement!
Indroid v1.0 Mod Info:
Unlimited Skill Points
Unlimited Ammo
Download [Google Play]