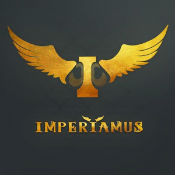 Imperiamus v1.01 Patched APK + DATA for Android.
You will play as an Imperiamus soldier, Jiulius 133, that needs to free the planet Pacemihi from unknown enemies.
As an extra you can play as Edward Blue, a boy with extra powers who helps Julius in his mission.
The game is a 3rd person shooter with Julius and Edward as playable characters, with the capacity to drive Imperiamus spaceships.
Imperiamus is an intergalactic association which deals with the military and political peace on the planets adhering to this initiative. In this case Imperiamus sends a legion to liberate one of its planets, but they can't enter its atmosphere because the enemy's spaceships antennas do not let anyone in.
Julius 133, one of the imperial soldiers who survived on the planet, is contacted by the general of the 9th Imperiamus Legion and thanks to the radio instructions, he will have to find why the enemies who have occupied an Imperiamus planet and collect three important relics that can save it.
What Imperiamus knows about enemies is that they are called Kaves and have stolen imperial weapons and spacecrafts for a purpose unknown to them.
[lightbox full="https://www.youtube.com/watch?v=U5EKwS3Fv68″ title="Imperiamus Mobile Game Trailer "]Watch Imperiamus Mobile Game Trailer[/lightbox]
How to install?
Download and install patched apk from below. Don't run the game yet!
Download obb file, extract the folder "com.EdwardRadu.Imperiamus" to Android/obb
Now launch the game and enjoy!
Download [Google Play]