Description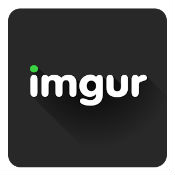 Imgur v2.4.10.681 beta APK for Android.
Often described as the world's greatest procrastination site and the perfect way to spend an afternoon, Imgur (pronounced "image-err") makes it easy to discover and enjoy the most awesome images on the Internet. What a time to be alive!
– Sit back and swipe through an endless stream of hilarious GIFs, heartwarming stories, mind blowing science facts, adorable animal pics and so much more. Watch as your spirits lift right before your eyes.
– Where does all that awesome stuff come from, you ask? Simple: people from all around the world submit images, and Imgur users vote up the best of them so all can bask in their glory.
– If you want to get fancy, you can browse posts by topic, search for specific kinds of posts, and cast judgement by upvoting, downvoting, and commenting on posts.
– Be warned: time has been known to quicken in this realm.

What's new in this release (beta 2.4.10):
– Tag search (use #word).
– Linkified hashtags in descriptions and comments.
– Bug fixes.
Download [Google Play]