Description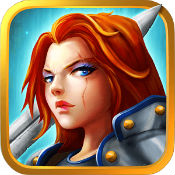 Heroes Blade v1.1.2 Mod APK for Android.
Heroes Assemble! Your Strategy. Your Team. Your Heroes. Choose and equip the perfect team for battle. Summon your heroes' skills with strategy. Take on Epic Bosses, Massive Campaigns, and the Global PvP Battle Arena with endless combinations of Heroes, Skill, and Strategy.
HEROES BLADE is one of the most addictive Action RPGs with its made-for-mobile gameplay and endless content. Featuring:
HERO SKILLS – SUMMON WITH STRATEGY
● Heal with a Shaman, Stun with a Brute, or use Spellfire with a Sorcerer; strategy is everything.
● 4 Unique Skills for every Hero
● Endless Team combinations and strategies
50+ HEROES TO COLLECT & UPGRADE
● From Badass Elves, Undead Pirates, Kungfu Pandas, to your Average Humans
● Evolve, Enchant, Craft and Combine your Heroes, Equipment, Skills and more.
● Customize each Hero: 6 equipment slots, Skills, Weapon, Evolution Tree, and more.
EPIC BOSS BATTLES & GAME MODES
● Take on massive Bosses at every Chapter
● Hundreds of Quests, Battles, Missions and more.
● Endless gameplay: Campaigns, Dungeons, Hero Trials, Expeditions, & PvP Modes
GLOBAL PVP BATTLE ARENA
● Duel & Rank with Players from around the World
● Join a Guild and meet others in the Global Real-Time Chat.
● Compete for Resources and Plunder Rare Items
Play HEROES BLADE for Free now and unleash your Heroes!
What's New
Version: 100100223
*** Note to new Android 6.0 Players! Please accept all game Permission requests, they are used to load the game and identify your game account. You can go to Settings > Apps > Heroes Blade > Permissions, and turn them on there. ***
New in this Version:
• Android 6.0 game login process streamlined for Permissions requests.
• Performance upgrades / Bug Fixes
Mod info:
1. 1hit kill
2. Enemy can't move
Install Steps:
1. Download and install tut apk if first run this game
2. Download and place obb file into sdcard/Anroid/obb/
3. Completed tutorial
4. Download and install mod apk
5. Enjoy the game
Download [Google Play]
Heroes Blade v1.1.2 tut APK | Mirror 1 | Mirror 2 | Mirror 3

Heroes Blade v1.1.2 Mod APK | Mirror 1 | Mirror 2 | Mirror 3