Description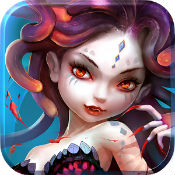 Heroes and Titans 2 v0.1.26 Mod APK for Android.
* Quick-paced match puzzle combat! Match your heroes' blocks to unleash powerful abilities against your enemies!
* Choose from many unique heroes; each having their unique set of skills and abilities from all powerful brute strength warriors to supportive healers
* Numerous game modes: Campaign Mode, Arena Mode, Infinity Tower, Daily Dungeons, and the Expedition! Battle through these modes to claim rare heroes and items
* Explore the vast world and battle enemies to obtain valuable loot and heroes
* Hundreds of missions and achievements to challenge and overcome
* Collaborate with other players around the world through guilds or play solo and rise to the top
* Fight in the PvP Arena against other player teams and rise up on the leaderboards
* Beautiful full 3D environment, characters, and visual effects
* Hundreds of legendary equipment and items to be obtained from victorious battles
* Special time limited events! Something to look forward to every day!
NOTE: Heroes and Titans 2 is free to download and play, however, some game items can also be purchased for real money. If you don't want to use this feature, please disable in-app purchases in your device's settings. Also, under our Terms of Service and Privacy Policy, you must be at least 10 years of age to play or download Heroes and Titans 2.
A network connection is required to play.
What's New
-Bug Fixes
Sunday Dungeon Rewards display issue fixed
Dungeon time display issue fixed
Resolved a game crash issue when pressing the phone's back button
Improved the Monthly Card description
-Balancing
Reduced difficulty of Campaign mode chapter 7
Medusa-Passive skill: enhance physical shield increased from 20% to 30%.
Overall hero drop chances have increased in campaign
-Additions
Crit display during battle
Feedback button on the home screen to gather player feedback
Mod info:
1.) massive dmg (more like 1 hit kill)
2.) auto unlocked
Download [Google Play]
Heroes and Titans 2 v0.1.26 Mod APK | Mirror 1 | Mirror 2 | Mirror 3

Heroes and Titans 2 v0.1.21 Mod APK | Mirror 1 | Mirror 2 | Mirror 3