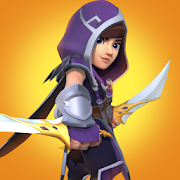 Hero of Taslinia Mod APK + OBB latest version download for free.
Mankind were slaves to the Lusus Hellions once… But a united force of man, dryads, and elves rose up, and defeated those creatures. With the Hellions sealed away, the Kingdom enjoyed years of peace… But somehow the Hellions found a way to claw themselves back! Now you must choose to rise up against them or fall to be their victims once again.
In Hero of Taslinia, you create your own team to battle out against all kinds of strong foes that may tip the balance between good and evil.
Play with friends to earn extra benefits, help each other or battle it out to see who is stronger. Craft and collect powerful weapons and armors to show the world!
Features:
1. FREE TO PLAY!
2. Create your hero, customize your team, craft powerful weapons and armors!
3. Play the "HoT" story to help defeat the Hellions!
4. Participate in intense PVP battles to win more!
5. Join clans to protect lands from invading World Bosses and other clans!
Mod info:
v1: (better for Arena; low ban chance)
v2: (better for Adventure dungeon; High ban chance)
Max damage
Max HP
Always your turn
Root required? No,works on both rooted and no-root Android 4.4+
OBB required? Yes, follow instructions below to install.
How to install?
1. Download and install Mod APK from the link given below, after installed, don't run the game yet.
2. Download the obb file then extract the obb folder "com.whoot.games.hot" to Android/obb (You might need ES File manager / X-plore file manager / Root explorer (Android 11 users need this) and ZArchiver / RAR for Android to extract the obb file if you haven't had one of these similar tools installed)
3. Done! And make sure you have "overlay" (display over other apps) and storage permissions enable.
4. Tap on the menu button to enable/disable mod features.
Download [Google Play]
Hero of Taslinia v1.7.0 Mod v1 APK

Hero of Taslinia v1.7.0 Mod v2 APK