Description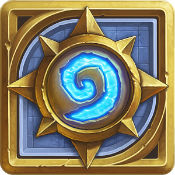 Hearthstone Heroes of Warcraft v4.1.10956 APK+DATA for Android.
DECEPTIVELY SIMPLE. INSANELY FUN.
Pick up your cards and throw down the gauntlet! In Hearthstone, you play the hero in a fast-paced, whimsical card game of cunning strategy. In minutes, you'll be unleashing powerful cards to sling spells, summon minions, and seize control of an ever-shifting battlefield. Whether it's your first card game or you're an experienced pro, the depth and charm of Hearthstone will draw you in.
JUMP RIGHT IN: Fun introductory missions bring you into the world of Hearthstone's intuitive gameplay.
BUILD YOUR DECK: With hundreds of additional cards to win and craft – your collection grows with you.
HONE YOUR SKILLS: Play in practice matches against computer-controlled heroes of the Warcraft universe. Thrall, Uther, Gul'dan – they're all here!
COLLECTION TRAVELS WITH YOU: Your card collection is linked to your Battle.net account – enabling you to switch your play between tablet and desktop with ease.
AND FIGHT FOR GLORY: When you're ready, step into the Arena and duel other players for the chance to win awesome prizes!
What's New
* Special Winter's Veil effects have been added starting December 9
* Savage Roar is now much less savage to the ears
* League of Explorers game boards have been added
* The following card backs have been added: Winter Veil, Shaman Thrall, Love is in the Air, Tauren Thunderbluff
* Resolved an issue involving Unearthed Raptor
* Addressed an issue with Ranked Play stars
* Addressed a display issue with opponent's Battletags
* Various audio, graphical, and UI issues have been resolved
Downloads: