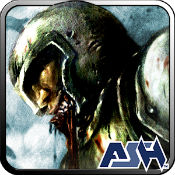 Heart Breaker v1.9 Mod APK for Android.
Three men have sold their souls vowing revenge on the Archfiend. They eat HEARTs for infinite strength! Here comes Dungeon exploration infinity classical hack & slash!
Heart Breaker is a hack and slash RPG in which you will venture into infinite dungeons. The player gets weapons, protectors, and HEARTs from enemies. These HEARTs can be equipped with a variety of effects and transplanted into items for various skills. Fight as you like with many weapons and HEARTs combined! Eat redundant HEARTs to gain experience. Eat for more strength in Heart Breaker.
The Heart Breakers get power from the sources of enemies they beat, that is, "HEARTs."
Beat enemies to cut, remove, and eat their HEARTs! The HEARTs will give them power.
-Added 'CLOUD-BACKUP' and 'RESTORE'
When you quit this App under good condition of your network connection, your gamedata will be backed up on the cloud storage.
By using 'RESTORE' at the option menu, you can write-back it into your device(e.g., after exchanging your device)
*Purchase within the application*
Unlock Game(All stages after Floor 6 are open):US$ 1.99
(Up to Floor 5 is available for free. Your purchase information is available with the same Google account on different smartphones. This information won't be lost even when the App is uninstalled.)
Extra Pack(change player's gender and class, etc):US$ 0.99
you will be able to use the following functions:
-change of player's gender
-change of player's class
-change of player's name
-FLOOR selection of starting exploration
-Replacement of items for sale(with payment of a specific sum of Gold)
Mod info:
– God Mode
– High Damage
– Full Game Unlocked
Root required? No, works on both rooted and unroot Android 2.3+
OBB required? No
How to install?
Download and install Original APK from below to bypass tutorial first.
Download and install Mod APK from below without uninstalling the original apk, it will overwrite.
Enjoy!
Download [Google Play]
Heart Breaker v1.9 Original APK