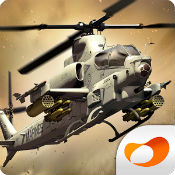 GUNSHIP BATTLE Helicopter 3D v2.3.60 Mod APK for Android.
The world's most powerful combat helicopters are at your fingertips.
★★★ 30 million downloads!!! ★★★
Become a helicopter pilot and engage in combat missions across the world.
Select from a variety of rotary and fixed-wing VTOL aircraft to complete your missions.
『GUNSHIP BATTLE』 is a helicopter action game that combines stunning 3D graphics with flight control simulation and engaging military scenarios to pull you into an immersive combat experience the moment you start the game.
【 Features 】
★ Enjoy controls optimized for 3D flight.
★ Select from a wide range of helicopters, each with unique characteristics.
★ Arm your chopper with a variety of weapons and equipment.
★ Complete missions in Episode mode inspired by real-life conflicts.
★ Challenge yourself with the next mission or replay a custom mission.
★ Also optimized for tablet devices.
What's New
The world's most powerful gunships at your fingertips.
1. New Russia's Next Generation Stealth Gunship "T-50"
2. Improved Gunship's Performance Graph Tool
3. New Episode Difficulty Balance
Have any feedbacks?
Leave a review or contact our customer support( [email protected] ) for any inquiries.
GUNSHIP BATTLE Helicopter 3D v2.3.60 Mod info
Need to collect gold coins In the first episode mission number 3.You get 3500 gold coins.So you can do indefinitely.

Downloads [Google play]
GUNSHIP BATTLE v2.3.60 Mod APK | Mirror 1 | Mirror 2

GUNSHIP BATTLE v2.3.21 Mod APK | Mirror 1 | Mirror 2