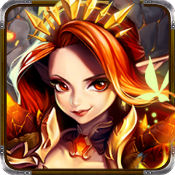 Guardian League v1.0.37 Mod APK + DATA for Android.
The world of Devinia is under attack. The demon king, Thartas, has been freed from his ancient prison and he's planning to wreak havoc on the entire world. The mythical Sealing Stone can lock the fiend away for good, but it's hidden away and only a person of the purest spirit can retrieve it. The only person who fits the bill? A young heroine by the name of May!
Gather powerful Heroes to your cause! Battle waves of deadly enemies! Equip epic gear and cuddly pets! Get ready to enter the world of Guardian League!
What's New
Fixes:
– Updated text and display
Having trouble with the latest update? Contact us at 【help.guardian.a[email protected]】 with any questions, comments and suggestions. Include your IGGID and we'll send you a gift to show our appreciation!
Mod info:
– 1 Hit Kill
– God Mode
– High MP Drop (from enemy)
Download [Google Play]
Guardian League v1.0.37 Mod APK | Mirror 1 | Mirror 2