Description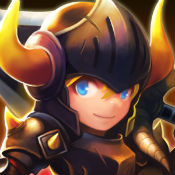 Guardian Hunter v13.5.2.00 Mod APK for Android.
Moving action Super brawl RPG "Guardian Hunter" open! It's A.L.I.V.E!
Hunt all the monsters in Bellia and turn them into my 'Guardians'!
Explore Bellia with charming guardians in a lively action adventure!
Join the super brawl now and become a guardian hunter!
[Game features]
● Play it light or fast! It's the L.I.V.E. action.
Feel the retro pumping action video games on mobile platform.
Learn the tricky monster attack patterns and dodge them in the battle!
Try different action styles as a warrior or archer!
● Heart stopping! Cuteness overload or super handsome! Guardians are A.L.I.V.E.
Experience the different skills of various guardians and feel their mighty powers!
Strong attacks, useful buffs, helpful debuffs?! Select and combine strategies to your tastes!
The choice is yours, my fellow hunter.
● Faster, stronger, better! Guardian E.V.O.L.U.T.I.O.N.S.
Don't give up on 1 or 3 Star Guardians! Evolve them!
Collect material guardians from the daily dungeons to evolve guardians.
Power UP! Charm UP! Upgrade to improve guardians.
● Infinite dungeons and arenas! Endless battles are A.L.I.V.E.
Join battles with your hunters and guardians enhanced from adventures.
Join the 5:5 PvP to boast your strength, and claim the prize!
Defeat endless enemies in the infinite dungeon or challenge other hunters.
● To strive for the best, kill the boss! Raids are A.L.I.V.E.
A massive enemy boss appears in Bellia?!
Boss raids that are simply impossible for single player!
Defeat bosses with the help of friends to obtain guardian runes.
● No time to rest! Various events are A.L.I.V.E.
Run Daily Dungeons to obtain evolution materials plus guerrilla dungeon events!!
Join event dungeons for a chance to level up stronger!
A diverse range of events await you in Guardian Hunter.
Every Day, Toast!
What's New
Fixed a problem that the arena does not end properly.
Mod Info:
– 5x damage
– 5x def
– 5x hp
– 5x sp
*Only for main hero.
How to install?
1. Uninstall all previous versions.
2. Download Mod Apk.
3. Install Mod apk.
4. Enjoy
Downloads: [Google Play] – No Root required!

[toggle title="Old Versions" state="close"]
Guardian Hunter v2.7.1.00 Mod [Root] | Mirror 1 | Mirror 2
Guardian Hunter v2.7.0.00 Mod APK | Mirror 1 | Mirror 2 | Mirror 3

Guardian Hunter v2.4.0.01 Mod APK | Mirror 1 | Mirror 2 | Mirror 3
Mod info:
1. High Attack (x3)*
2. God Mode*
3. Skill No Cooldown*
4. Infinite Mana*
5. Speed Up (x2)
*Only for main hero.
Guardian Hunter v2.3.2.00 Mod APK | Mirror 1 | Mirror 2 | Mirror 3

Guardian Hunter v2.2.0.03 Mod APK | Mirror 1 | Mirror 2 | Mirror 3
[/toggle]