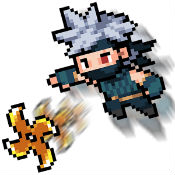 Grow Stone Online v1.200 Mod APK for Android.
★ Adventure to find the legendary stone! ★
Play in pixel MMORPG with multiplayers online now!
[How to control]
– Super Easy! Just tap and Touch, That's it
– If you're busy, Use Auto attack and Auto Combination!
– Also Get Rewards even though you're not in game
[Best Weapon]
– Knife? Bomb? Arrow? what about stone?
– Dig and grow stone in mine
– Imagine what happened if you combine them
[Enjoy MMORPG]
– Fight in Dungeon with friends
– Be Brave! Adventure to Tower of challenge
– Anyone who fight with me? Let's PVP!
– Hunt Monsters in many field
– Exciting Boss Raid online
– Come on! bring your weapon in Battle Field
– Who is the best clan? join Castle Battle
[More friends, More fun]
– Join the clan and be the best clan!
– You're not alone! Enjoy Party Hunting
– Talk with your clan in clan house
– Meet friends in Town from all over the world!
[So attractive]
– Meet various Avatar, pet in retro graphics
– Time killing! Combination again and again!
– Enjoy rain, snow just like a real world.
[EVENT]
– Free Dungeon Tickets everyday!
– Double Gold, Rubies in hot time!
– Rain will bring you good luck
Mod info:
1. High Attackspeed
2. Item Cooldown -90%
3. Movespeed x2
4. Increased Attackrange
5. No Ads
6. Free Ads-Rewards
7. Safe Mode (when you play on auto mode, everything looks normal)
8. Appguard Bypassed
9. Facebook Protection Bypassed
Root required? No, works for both rooted and unroot Android 4.0.3 and up.
Need OBB? No!
Fail to login with FB? Disable / delete your Facebook App and login again.
Login with Google? No!
[ads1]
Download [Google Play]
Grow Stone Online v1.200 Mod APK | Mirror 1 | Mirror 2 | Mirror 3
[toggle title="Old Versions" state="close"]
Grow Stone Online v1.119 Mod APK | Mirror 1 | Mirror 2 | Mirror 3
[/toggle]