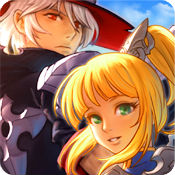 Granvilier v1.0.14 Mod APK for Android.
One day, the hero who got a book that can summon "hero". From there, his fate changes greatly. He was blown away by the land of faraway and suddenly became the "lord of the frontier" – but his territory had already been deprived by the monster …
As a player becomes the main character, he will throw himself into the world of fighting, opening up old heroes to regain the captured territory.
A refreshing system where the action of the user influences the result of the battle, the strategy of fighting by placing characters in the front row, middle row, and back row
Timing and skill activation, etc. Aim for victory by utilizing roles such as recovery and assistance!
Let's put your favorite character as the mainstay with detailed growth elements such as evolution of characters and training of equipment and strengthening of skills!
Mod info:
– Unlimited skill
– Auto win *
You need to win the first wave then will auto win in next waves.
Download [Google Play]