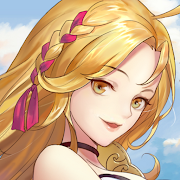 GOT2: The Last Stand Mod APK + OBB v1.0 for Android.
In the year 208 of the Holy Calendar, the prophesied Dark Comet crossing over into the realm of the Elemental Continent was foretold. The elders in their wisdom placed a magical seal that has held for thousands of years.
Fate, Destiny… cannot be stopped… crumbling the barriers that once protected this world. The God of destruction comes again to reclaim and reap the souls of the land, bending all to its will.
Guardians of the throne II- The Last Stand is a Turn-based RPG that extends the main gameplay of GOT. collect ultra heroes and create a powerful team to defeat other players in Arena. Clean the normal and elite dungeons to obtain the elements and materials for enhancing gears.
Features:
Real-time Fatansy RPG Battle Game. Players can make a party dungeon and defeat the dungeon boss. Use their strategies in-game that would be helpful for players to win all dungeons.
Unique Artworks. We adapt the U3D game engine and this makes the game looks great with awesome graphics.
The Game has Three classes and there're more than 50 different heroes. And each hero has their own special skills and outfit. Team up with selected heroes and get matched to defeat all enemies.
Arena and Guild War. Players will be able to join the arena to win the Ture-King of the server every day. and join the guild war every Wednesday, guild war will take three days and the contest result will be generated in the weekend.
With the Heart of the Elements, warriors must band together and gather to loosen the darkness growing grip and change the fate of the world…There is no room for…Fear…Despair…And Pettiness. Those to be the Guardians of Light must rise to the challenge and put at stake their very lives to launch a final strike and Put an End to the growing Darkness. Fate is in Your Hands … Deliver us from Evi.
Mod info:
MENU MOD
DAMAGE MULTIPLE
DEFENCE MULTIPLE
Download [Google Play]
GOT2: The Last Stand v1.0 Mod APK