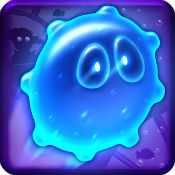 Goo Saga v1.12 Cracked APK+Mod+DATA for Android.
Goo Saga is a platform adventure game where the player guides an elastic creature named Goo in a perilous journey to find his creator – and with him, the mysterious purpose of his own creation.
Will Goo succeed? Puzzles, deadly traps and an army of foes in a labyrinthine underwater lab block his way. Goo's destiny is in the player's hands.
Features
• 3 different states of Goo's elasticity controlled by the player: Deflated, Normal, and Inflated.
• 3 different modes to complete each level: Normal, Survival, and Time Trial.
• Beautiful hand-painted graphics.
• 18 atmospheric soundtracks.
• Sophisticated level design with meticulously planned alterations between puzzle-solving and platform-based gaming sections.
• 19 levels and 4 boss fights.
• 12 types of robotic foes.
• Crystals collected through successful completion of the levels and used to enhance Goo's abilities.
• 8 upgradable character abilities that help Goo in his journey.
• Enticing storyline delivered through in-game cutscenes.
• 2 different endings.
• Powerful level editor to create your own levels.
• Online server where you can upload your levels or download, play and rate other players' levels.
What's New
Resolved rendering issues
Mod info:
Unlimited Gems
Abilities unlocked
Download [Google Play]