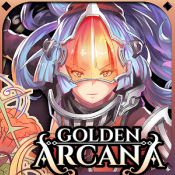 Golden Arcana: Tactics  v1.1 Mod APK for Android.
Welcome to the world of Arae! A place where fantasy and science coexist in harmony and civilizations bask in a golden age thanks to the power of Cards to solve their issues. But this is not a time of peace, and tactical conflicts between nations are very common.
But a new threat has descended upon Arae. The Voraces race is ravaging all life and it looks like nothing can stop them.
Take the leadership of this adventure and, along with your allies, unleash the power of the Arcana, ages-old Cards with legendary abilities. Will you be able to save the world from the Voraces?
[Features]
—–EPIC ONE PLAYER CAMPAIGN—–
Get new Arcana in order to defeat powerful enemies and save the world of Arae in a gripping story!
—–BE THE ARCANA SUMMONER—–
Unleash the power of the Arcanes to recruit new allies and create the perfect group. Each character has unique skills in all shapes and forms!
—–INNOVATIVE RTS BATTLE SYSTEM—–
Fight real time battles where the action never stops! Use your cards wisely if you want to emerge victorious!
—–FREE GAME—–
Nothing needs to be paid for! Everything can be unlocked by playing the game, such as recruiting new characters or improving their skills!
Golden Arcana combines RPGs and card games in an incredible sci-fi and fantasy adventure to save all of humanity.
WHAT'S NEW
Welcome to the world of Arae!
Embark on an incredible adventure to save the world from the Voraces, use the power of the cards to defeat them and unleash the Arcana to gather new heroes.
—–FEATURES—–
⭐Collect heroes!
⭐Innovative realtime card battles!
⭐Epic one player campaign!
⭐Free game!
Mod info:
1. No Energy Cost (increasing)
2. Player High HP
3. Enemies Low HP
Root required? No, works on both rooted and unroot Android 4.1 and up.
Make sure install and use the tut apk to finish tutorial first then directly install the mod apk.
[ads1]
Download [Google Play] – (Unreleased)
Golden Arcana: Tactics  v1.1 TuT APK | Mirror 1 | Mirror 2 | Mirror 3

Golden Arcana: Tactics  v1.1 Mod APK | Mirror 1 | Mirror 2 | Mirror 3