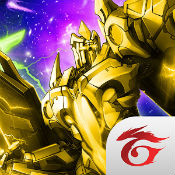 Garena Thunder Strike EN v1.00.230 Mod APK for Android.
Control your Fighter, explore the galaxy and destroy all enemies! As a Thunder Striker, your mission is to stop the Star Alliance's evil plan before they take control of the universe.
Thunder Strike is a fast-paced shooting game with addictive gameplay and awesome animation graphics. This exciting action game brings back the nostalgic gameplay from the arcade classics of the 80's and 90's. The gameplay is very smooth – just slide one finger across the screen to dodge and attack. Players can customize and strengthen their Fighter planes to explore the unknown galaxies and defeat the evil Star Alliance in the game.
There are various game modes in Thunder Strike; each offering a different type of challenge. This ranges from fighting endless waves of enemies to collect more gems and equipment, to defeating epic 12 Zodiac Bosses to upgrade the Fighters and unlock more stages. Players can also obtain pilots to enhance their power: each pilot has a special ability that can help improve players' performance in a battle. Like fighters and other equipment, pilots can be levelled up and upgraded, but using different materials.
In addition, Thunder Strike has great social functions for players. Players can compete their scores with friends to achieve the top rank on the weekly leader board, and also engage friends' Fighters to help defeat the evil Star Alliance in battles. With smooth movements and exciting battles, players can enjoy splendid interstellar journey with friends anytime, anywhere.
FEATURES
• [NEW] World Battle: New PVP is out now! Challenge other players in World Battle! Hundreds of Diamonds and Gold are waiting to be won!
• Space Theme: Join the Earth's Federation's forces to defend the galaxy. Get in the thick of the action and battle across realistic space environments!
• Endless Mode: Survive the unstoppable onslaught of enemies! Use friends' assistance to increase your attacking ability. Compete your best score with friends on the weekly leader board.
• Boss Mode: Defeat the ever-challenging 12 Zodiac Bosses at all stages of the games and collect EXP/Golds/advancing materials!
• Fighter Upgrade and Customisation: Tons of upgradable parts and weapons waiting to be discovered! Combine parts to build the strongest Fighter
• Pilot system: Increase fighting power with newly introduced Pilots! Try out their unique skills and abilities.
What's New
More exciting new features are now available in Thunder Strike!
– New VIP8: More privileges!
– Evolution system: Evolve older fighters into newer models!
– Heroic Mode: Challenge the new stages! Collect Evolution Blueprints to increase your fighting power!
– Additional 5-star Fusion system for VIP8 and above players!
– Added Survival Mode to World Battle!
Mod info:
[V1]
1. God mode
2. High Attack (30k)
[V2]
1. God mode
2. High Attack (65k)
[V3]
1. God mode
2. MASSIVE Attack
NOTES:
Use lower attack version if you can't kill the boss.
Move your plane overlap the boss if you want to die, make sure you don't have shield
Download [Google Play]