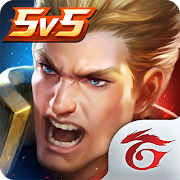 Garena RoV: Songkran Mod APK v1.39.1.3 for Android.
New Features!
1. Optimize the skin evolution system – EVO 2.0
2. New EVO skin – Food Monkey Wukong
3. Bring back the in-game Ward stone
4. New mode – Beach Zip Ball
5. Duo Racing mode with new map theme
6. Optimize the Challenge mission on Rank mode
7. Adjusted hero balance to support world championship tournaments.
8. Fixed bugs and optimized game play.
7. Bug fixes and improvements
RoV : Challenge yourself with a thrilling 5V5 MOBA experience on mobiles. With new exquisite heroes and plenty of free items, let's begin new legends of mobile eSports together now.
+Teamfight
Team strategy, hero counter, and picking, and strategic planning skills. Team-up and fight on the battlefield to end the game in triumph.
+Hero Balance
Balanced and flexible heroes allow players to adjust their plans for various situations. The fun begins from hero pick-ban to competing fairly on the battlefield. Only the best players win!
+10-Minute Game
With a fast-paced game, approximately 10 minutes for each game, players can have a full MOBA experience anytime and anywhere.
+Smooth Control
Smooth controls and best mobile MOBA system ever, designed and researched by best game developers.
+eSports
Breathtaking competitions among Pro League champions with exceptional strategies and gameplays.
Mod info:
1. MOD Menu
2. Map Hack (Enemies always visible)
3. 60 FPS Mode (even if your device does not support it)
4. Drone View
NOTES:
– You have to choose the Maphack depending on your team. If you are in Team Blue choose Maphack for Team Blue. It needs respawn of the enemy if you activate in battle to take effect. You can activate already on loading screen where you see your profile picture in blue or red frame for instant effect.
– Do not keep drone view activated outside of battles, otherwise you stuck at loading.
– Ban risk can be high, you are warned.
Credits: G-Bo
Download [Google Play]
Garena RoV: Songkran v1.39.1.3 Mod APK