Description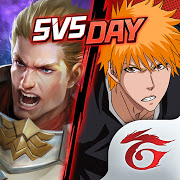 Garena AOV Link Start Mod APK/IPA latest version  for Android and iOS.
Experience AOV (Arena of Valor), an epic new 5v5 multiplayer online battle arena (MOBA) comes with ultra-HD graphic, premium content and made with attention to balance. Victory can only be obtained by skill. Call on your teammates to join and become legendary in the arena.
Features:
1. 5V5 MOBA with Ultra HD Graphic.
Traverse a classic three-lane arena filled with nooks and crannies between towers. Watch out for enemies lurking in the brush and uncover secrets that wait in the jungle. Intuitive controls specifically designed for mobile will have you racking up kills with ease and make you an MVP in no time! Enjoy the new battlefield 3.0 with improved dynamic lighting delivers a superior visual experience across all graphic quality settings without any performance impact. An additional level of graphics, Ultra-HD setting, enables even more detailed battlefields
2. The Ultimate MOBA Experience
First Blood, Double Kill, Triple Kill… all the features that you know and love right at your fingertips. Discover and dominate all the gameplay modes, including 5v5, 3v3, 1v1, and a NEW 10v10 Mayhem Mode mode that will challenge your skills and make you a true champion!
3. Master 80+ Uniques Heroes
Explore and command a roster of over 80 fearless heroes and counting, including including official DC Super Heroes like Batman, Wonder Woman, The Joker, The Flash and Superman. We also brings Indonesia Local Hero, Wiro Sableng to join the battle. Prepare yourself to get many breathtaking rewards from many interesting events.
4. Fast Matchmaking & 10-Minute Matches
Team up and play with more than 20 million players across South East Asia in an instant. Carve your way through jungles, lanes, and towers, draw first blood and destroy the enemy Core. Carry your team to victory in less than 10 minutes!
5. No.1 Mobile Esports in the World
No pay to win, pure skill! There are no special purchases with money for additional status. 100% skin is just a costume, win or lose is up to your skill. Team up and prepare for AOV tournament at various levels from amateur, regional, national and International levels. The latest AOV Tournament had a total prize of USD 500,000 which makes AOV the biggest Mobile Esports in the world.
Mod info:
1. MOD Menu
2. Map Hack (Enemies always visible)
3. 60 FPS Mode (even if your device does not support it)
4. Drone View
NOTES:
– You have to choose the Maphack depending on your team. If you are in Team Blue choose Maphack for Team Blue. It needs respawn of the enemy if you activate in battle to take effect. You can activate already on loading screen where you see your profile picture in blue or red frame for instant effect.
– Do not keep drone view activated outside of battles, otherwise you stuck at loading.
– Ban risk can be high, you are warned.
Credits: G-Bo
Root required? No,works on both rooted and no-root Android 4.0.3+
OBB required? Yes, follow instructions below to install.
How to install?
1. Download and install Mod APK from the link given below, after installed, don't run the game yet.
2. Download the obb file then extract the obb folder "com.garena.game.kgid" to Android/obb (You might need ES File manager / X-plore file manager and ZArchiver / RAR for Android to extract the obb file if you haven't had one of these similar tools installed)
3. Done! And make sure you have "overlay" (display over other apps) and storage permissions enable.
4. Tap on the menu button to enable/disable mod features.
Download [Google Play]
Garena AOV: Link Start v1.41.1.6 Mod APK
For Non-Jailbreak iOS:
Game Name: Garena AOV – Arena of Valor
Game Version: v1.40.2.1
Bundle ID: com.garena.game.kgid
Needs Jailbreak: No!
Platform: Apple 64 bit (old devices not working like iPhone 4)
Supported iOS: 14 and less.
Separate App-Icon: no
Supported Devices:
– iPhone 5s or newer
– iPod Touch 6G or newer
– iPad Air/Pro or newer
– iPad mini 2 or newer
– work for non-jailbroken and jailbroken devices.
How to install IPA on non-jb devices
Hack features:
Map Hack // see enemies on the map
Download: [iTunes]