Description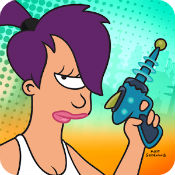 Futurama: Game of Drones v1.11.0 MOD APK for Android.
GOOD NEWS, EVERYONE!
This is Professor Farnsworth. I'm sending you off on a whirlwind of deadly, quite deadly, and very deadly missions! I've created an array of delivery drones to make your almost certain death more fun than my trip to Ecstasia 9, the fun planet!
Oh, and remember, the drones require almost constant attention, so you'll need to make sure they're arranged in groups of four or more. I also added some rather explodey doohickies, so look out for super drones like the triple-dipple laser drone, oh my.
I expect you to behave in a manner becoming of a Planet Express employee, so that means no destroying all humans, Bender! And you'll need to use each of your special abilities to get those packages delivered before we inevitably go bankrupt and you're all living on the streets!
Come along, off you go. It's time for my nap, oh yes.
*FUTURAMA: GAME OF DRONES FEATURES*
NOT SURE IF MATCH 3, OR… – This isn't Slurm Soda Crush Epic! You gotta match 4, dummy.
YOU'RE SPECIAL – Use your special delivery boy superpowers, like, erm… oh never mind
EXPLORE THE FUTURAMA UNIVERSE – And teach colorful aliens how to lurve
*PARTICIPANT REVIEWS*
"I can't believe this was released without a B76-403 certificate of fun." – Hermes Conrad
"This will almost certainly stimulate the human's tertiary brain." – Dr. Zoidberg
"……………………………………………….." Hypnotoad
ALL GLORY TO THE HYPNOTOAD. DOWNLOAD FUTURAMA: GAME OF DRONES NOW! ALL GLORY TO THE HYPNOTOAD.
What's New
* Added Spanish localization
* Updated Facebook SDK
* Improved performance
* Added new content
* Bugfixes
* Smaller improvements
 Mod info:
Unlimited Money
Unlimited Lives
Ad-free
Downloads [Google Play]
Futurama: Game of Drones v1.11.0 MOD APK | Mirror 1 | Mirror 2 | Mirror 3

Futurama: Game of Drones v1.9.0 MOD APK | Mirror 1 | Mirror 2 | Mirror 3

Futurama: Game of Drones v1.8.2 MOD APK | Mirror 1 | Mirror 2 | Mirror 3