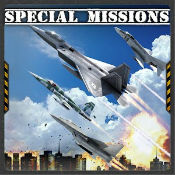 FoxOne Special Missions v1.5.18 Mod APK for Android.
FoxOne: Special Missions is a new release in the Fox One game series with a entirely new campaign, new objectives, new enemies and new sceneries. All that while keeping the original gameplay that consolidated our game as a success with the public, with very high review ratings in all app stores where it has been published.
Along with all the features found in our previous games, FoxOne Special Missions contains:
◆New and highly detailed sceneries, such as the Portstown city with very tall skyscrapers
◆New paint schemes ("skins"): F-5 Brazilian Air Force, MiG-29 of the Russian Air Force, MiG-21 Indian Air Force, F-14 Tomcat Squadron VX-9 Vampires, F-18 Hornet of the "Blue Angels " (the last two exclusives in the full version)
◆Graphic settings button (low, med, high)
◆Free Flight Mode, to practice your flight skills without being attacked
◆ Surgical strikes in urban areas – destroy invading tanks in the city streets using high precision weapons
◆ New threats, such as the SA-9 Gaskin Mobile Anti-Aircraft Missile System and the Sukhoi Su-35 Super Flanker
◆ New targets such as radar stations and enemy aircraft carrier
◆ Improved visuals and performance
★NO IN APP PURCHASES! The player has only to progress through the game to unlock all the aircraft and stages.★
■■■Original features of the previous FoxOne games that are maintained in this new release:■■■
★★★★★12 different aircraft: F-5E Tiger, MiG-21Bis, F-4 Phantom, Jaguar GR3, Tornado GR4, MiG-29 Fulcrum, F-2A Viper Zero, F-14 Tomcat, F-18 Super Hornet, Rafale, J-20 and the F-22 Raptor.
★★★★★Each aircraft has its own Unique and Authentic looking 3D Cockpit.
★★★★★Incredibly small file size (<50MB) whilst still offering HD Graphics Quality.
★★★★★Unparalleled sense of speed: Feel the thrill of blasting through the skies in 12 different supersonic jets, based on real aircraft models, each one having its own unique place and use in the game.
★★★★★Easy to pick up controls: Unlike other action flight sims, FoxOne has an extremely intuitive and responsive control layout, which enables you to focus on the battle, instead of trying to stay airborne.
★★★★★A wide range of different weapons to equip your jet awaits you. These include built-in cannons, guided air-to-air and air-to-ground missiles, bombs and unguided rockets.
★★★★★Fly through 10 increasingly challenging and varied missions (non-linear) located in different parts of the world.
★★★★★No WiFi connection required, play offline, anytime and anywhere you want.
★★★★★Destroy reactors and bases hidden deep inside canyons and underground installations.
★★★★★Protect allied facilities, or defend entire cities from enemy bombers.
★★★★★Gritty and visceral: No cartoony visuals and silly characters, this is the real deal.
★★★★★Are you ready to take on the role of a mercenary fighter pilot? Are you ready for intense and chilling missions? If so…become FoxOne!
Fly to live…kill or be killed.
FoxOne Special Missions v1.5.18 Mod Info:
Download [Google Play]
FoxOne Special Missions v1.5.18 Mod APK | Mirror 1 | Mirror 2 | Mirror 3