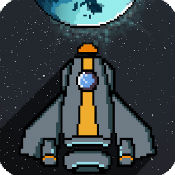 Fotune v1.01 Mod APK For Android
Test your skills in the challenging space game for mobile devices. Bringing legitimate retro 2D action with many obstacles, traps and enemies. Be the captain of the ship that will save humanity from extinction and make important decisions on your journey. Acquire and combine equipment on your spaceship in order to achieve the highest score in our ranking and be the leader in Fotune universe.
What's New
News of the new 1.01 version:
– Support for new language – Spanish;
– Created a tutorial for new players, teaching how to play until buy the second propellant;
– Improved the art of some sprites;
– Powerups like "magnet" now will pause during the event's decision screen;
– Optimized ranking performance;
– Fixed bug of disappearing planets;
– Fixed error by inviting Facebook friends by the ranking;
– Several other bugs fixed.
Fotune v1.01 Mod Info:
Download [Google play]