Description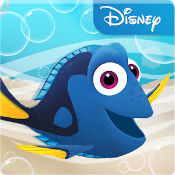 Finding Dory: Keep Swimming v1.2 APK + DATA for Android.
Dive in with Dory and be part of the story!
‪Inspired by the Disney•Pixar film Finding Dory, journey with Dory and friends through fin-tastic levels to find her family! Follow the bubbles as you travel from the Reef to shipwrecks, kelp forests, the Marine Life Institute, and more. Try to earn three stars on every level, and choose funny items to customize your journey in surprising ways—you'll never play the same way twice!
Dive in with Dory to help her find her family.
Adventure through 13 levels over 5 worlds.
Choose funny items to make the story your own!
Meet Dory's friends with fun appearances from Nemo, Marlin, Hank, Bailey, Destiny, and more!
Experience the incredible Stingray Migration!
Explore the Marine Life Institute—but watch out for curious kids!
Race across Morro Bay to help Dory save the day!
This app will store game data and content to your device's storage.
If you're experiencing difficulties with audio, please check the audio settings on your device to see if your device is muted. Don't hesitate to contact customer care http://help.disney.com/Apps/Finding-Dory-Just-Keep-Swimming.
Download [Google Play]
Finding Dory: Keep Swimming v1.2 APK | Mirror 1 | Mirror 2 | Mirror 3