Home /
Mods /
FighterWing 2 v2.61 Mod APK+DATA
Description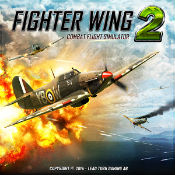 FighterWing 2 v2.61 Mod APK+DATA for Android.
Introducing: Fighter Wing 2 the WW2 multiplayer combat flight simulator! Battle for air supremacy with legendary war planes in this addictive flight game with a unique real life physics engine giving you the most realistic flight experiences on mobiles today. Choose your war plane, upgrade your weapons and battle with thousands of players from around the world!
PLEASE NOTE! Fighter Wing 2 is a realistic combat flight simulator which means that it will take a little practice before learning how to master the skies, you will enjoy seeing how your flying skills and flight maneuvers evolves from being a rookie to ultimately becoming a living WW2 fighter pilot legend.
Fighter Wing 2 takes mobile Flight simulators into a whole new level of fun, it can't get more hard core than this:
• Multiplayer action, fight against other real players from all over the world
• Fly realistic models of classical WW2 war planes such as the: Harvard, Texan, Hurricane I, Hurricane IIB, Hurricane IIC, Bf109 E, Bf109 F, Bf109 G, Spit 1, Spitfire I, Spitfire V, Spitfire IX, Fw190 A1, Fw190 A4, Fw190 A8, A6M2 Zero, A6M3 Zero, A6M5 Zero, P51 D, P-38 F, P-38 J, Macchi C.200 Saetta, Macchi C.202 Folgore, Macchi C205 Veltro.
[ads1]
What's New
FW2 v. 2.61
– New map! The Advanced arena adds the long awaited ground attack online game play to FighterWing. Load your aircraft hardpoints with drop tanks, bombs or rockets in order supress enemy AAA, destroy war production and finally occupy enemy territory. A new level of team play will be nessesary for succsess.
[ads2]
FighterWing 2 v2.61 Mod info:
Download [Google Play]
FighterWing 2 v2.61 Mod APK+DATA | Mirror 1 | Mirror 2 | Mirror 3