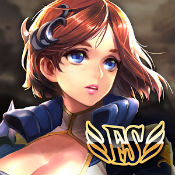 Fantasy Squad: The Era Begins v1.3.1 Mod APK for Android.
Journey with [Stein], Erashid's Light of the NEW World
Train a Squad of Heroes, to complete fulfill your QUEST!
Extreme Action RPG! Start a NEW ERA on your Fantasy Legacy
In the far, far north. The [Wall of Wonders] stood tall as the sky
Isolating a world where [Guardians], beasts and diverse creatures exists in harmony
The Wall that was unmoved and unscathed through the test of time
Until the day when, humanity received a grim reminder of the dangers of the unknown
On that fateful day, the wall cracked open and unveiled the hidden Northern World
Challenge yourself! Tame the Guardians to be humanity's LAST HOPE
Withstand Garashid's curse! Form a Squad that can smash them to pieces!
This is now your fate…
Game Features
★ Stand tall to be humanity's last hope!
In a strange world beyond the wall. Heavenly bodies ruled the land. Are you WORTHY to dominate the Guardians?
Fight back and simmer the experience in battling collosus monsters. Stand tall to be humanity's last hope!
★ Get CRAZY with 500,000 possible Team Combination!
Empower your Squad with the Fate System!
Empower your Squad with the Area Link System!
Battle other Squad with over half a million Squad Combination (Team Formation)!
★ Immerse your senses with Immense Story and Character Depth!
Journey with the Hero and embark on a course changing destiny!
Relish the familiar RPG style and savor the story unlike any other!
★ The Ultimate Fantasy Squad – Strategy & Plot!
Entangle yourself with the awesome Characters and their profound backstory
Establish your own Fantasy Squad with strategic team formation, combination to conquer vital plot!
★ Real Time Battle FEVER!
Leave your boring ass game!
Embark on a NEW World of dynamic real-time PRG adventure!
Mod info:
– Player High Damage
-Crit Chance and Crit Damage
– Enemy has No Defence,
– Enemy has No Blocking
-Enemy 0 damage
– PvP enemy dmg 0.7x & heroes dmg 2x
Install Steps:
1.) Install Original Version First to Bypass Tutorial
2.)Uninstall Playstore Version and Install modded APK
3.) Enjoy
Download [Google Play]
Fantasy Squad v1.3.1 Original APK | Mirror 1 | Mirror 2 | Mirror 3

Fantasy Squad v1.3.1 Mod APK | Mirror 1 | Mirror 2 | Mirror 3