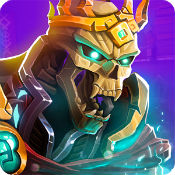 Dungeon Legends v2.52 Mega Mod apk for Android.
Enjoy a true Action RPG experience with Dungeon Legends.
Challenge other players in REAL TIME in the arena and become a legend of the dungeons. Go through the levels in search of incredible TREASURE or for help to overcome the challenges in CO-OPERATIVE MODE. Join a clan and fight for control of the dungeons.
Develop your skills and adapt your character to your style of play. Select your skills and become a WARRIOR, HEALER or DEFENDER before you start a Game.
As a Dwarf, there comes a time when you have to leave your town in search of gold and glory. Take on the challenges of the dungeons to earn experience and gain the respect of your people.
DISCOVER AN ENDLESS WORLD OF ADVENTURE
Enter the dungeons and take part in the weekly events. In each unique journey you will get new rewards that will help you improve our skills.
FIGHT IN THE ARENA
Fight against other players in real-time batt
What's New
Ascended Pets: Unlock a new level
New cap level: 130
Fixed a bug in clan feud, that sometimes made the Skeleton King points appeared as +0, instead of +1
Bug fixes and system optimizations
Dungeon Legends v2.52 Mega Mod info:
-High damage
-High gold drop
-High exp drop
How to install? (Read Carefully)
1.Download Original apk
2.Install it and Launch the Game
3.Play it until you finish tutorial & 1st mission.
4.Now go to settings and link your account to FB and wait..it will automatically pop up the msg "account. successfully linked!"
5.Then Close the Game
6.Now install Modded apk over the Original
7.After installation is done? Launch it again.
8.You can now play the Game enjoy!
Downloads: [Google Play]