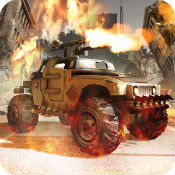 Drive Die Repeat v1.0.3 Mod APK for Android.
DDR is one of the best zombie racing game ever made! Hit, shoot, stomp and kill zombies using your vehicle and weapons! Drive your way through dozens of creepy zombies, who are willing to die in order to stop you from saving the world!
🚘 Nonstop Action:
Shoot and stomp the scary zombies with your unique vehicle using growing arsenal of weapons that will help you kill zombies faster and progress to new environments in the game! How far can you get?
🚘 Special Upgrades:
Collect gold coins by hitting and smashing as many zombies as you can. Use coins to upgrade your vehicle, weapons and armor in the cool junkyard! These upgrades can help you get a higher score by increasing your vehicle speed and your fire rate when facing the vicious zombies!
🚘 Epic Gameplay:
Smash and run over zombies or kill them using your powerful guns. Master your driving and shooting techniques to save the world from the zombie's apocalypse!
🚘 Game Features:
Highly addictive zombie game!
Impressive upgrades and vehicles!
Amazing graphics and gameplay!
3 beautiful environments!
Drive Die Repeat v1.0.3 Mod INFO:
– Money
– Repair
– Unlocked
– Maxed out
– No Ads
Download [Google Play]