Description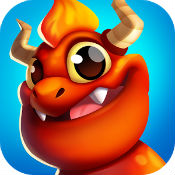 Dragon Stadium v1.10.3 Mod APK for Android.
Best Dragon Game Ever! All in stunning 3D. Breed your dragons and hatch your eggs to collect them all. Feed and evolve your dragons to increase their power level. Test your fighting skills in Quest Mode, and conquer all of the islands. Take on the Dragon Stadium and become the Master of Dragons!
~~~~~~~~
FEATURES
~~~~~~~~
* Build and upgrade habitats to host your growing dragon collection
* Breed and collect hundreds of unique dragons
* Evolve your dragons from newborn babies to their ancient form
* Master the family trees to collect the rarest dragons
* Battle through elemental islands to earn incredible rewards
What's New
Bug fixes
Technical improvements
v1.9.4 Mod info:
1. Build city/boat complete instant
2. Breeding/hatching/evol complete instant
3. Collect gold/food/pearl get 999.999
4. Base storage gold/food/pearl 1.999.999.999
5. Chest reward infinite
6. Remove dragon required to upgrade Castle town
7. 10.000 exp for complete build
v1.10.0 Mod info:
Free upgrade
Free evolve
Free refill [Gold, Food, Pearl]
Instant build
Instant hacth
Instant remove stone/tree
Instant Healing
Instant skip battle
Install steps:
1. Install original app from Playstore or download from below to by pass tutorial
2. Download and install mod apk
3. Download additional data in game and enjoy the game.
Important: For chest reward, in tutorial when you see quest open chest. DON'T open chest, quit the game and install mod. If you open without using mod, you need wait 4h to open next
Download [Google Play]