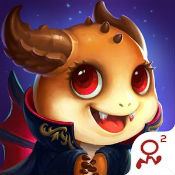 Dragon Pals Mobile v1.6.2 Mod APK for Android.
Build a bustling city and discover your Dragon-Master destiny in Dragon Pals! Master the 7 elements as you collect an army of lushly animated 3D dragons, and hatch a new generation of legendary dragons by breeding your favorites together! With an endless variety of elemental combinations to find, there's never been a better time to start uncovering the mysteries of Dragon Island. Put your 3-dragon team to the test in a rich variety of single-player modes, and prove your dragon training mastery in global PvP!
KEY FEATURES
COLLECT POWERFUL DRAGONS: Discover, rescue, and earn an incredible variety of richly detailed 3D dragons, each with up to 4 unique skills and elemental properties!
BREED NEW DRAGONS: Combine elements to discover new and powerful dragon eggs, then hatch them to complete your collection!
UNLOCK SYNERGIES: Earn permanent bonuses for your dragons by collecting themed sets!
BUILD YOUR CITY: Make Dragon Island yours by building habitats, temples, and more – and expand your settlement by clearing away the forest!
STRENGTHEN YOUR DRAGONS: Keep your dragons happy by feeding them fresh fruit, strengthen their Skills with Training, and unlock their true potential with Ascension!
CONQUER TEAM BATTLES: Lead your dragons to victory in exciting 3v3 battles across a variety of single player and PvP modes – and master the power of the elements to inflict maximum damage!
When you visit the world of Dragon Pals, there's always something new to discover – from new dragons to awesome events. Claim your dragon eggs and start your journey today!
What's New
1. New building: Time Sphere
2. New building type: Decorations
3. New event: Lottery
4. Halloween theme for Excavation and The Great Journey!
5. Shuffled around the buttons in the main panel
6. Halloween dragons!
7. New Synergies
Mod info:
*[highlight color="red"]Both you and your enemy have high damage! Put 1 dragon with nice skill in your team and be winner![/highlight]
Root required? No, works on both rooted and unroot Android 4.1+. However, you will need rooted to login with Google.
OBB required? No, just download and install mod apk from below.
[ads1]
Download [Google Play]