Description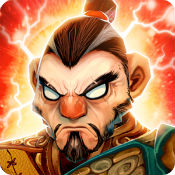 Dragon Ninjas v9.0.2351-PVRTC Mod APK for Android.
An action-packed fantasy RPG! Assemble an invincible army and command them to victory against evil forces to reconquer the greatest empire ever built.
FULL ADVENTURE
Engage in brutal sieges, venture into the deadly dungeons and battle against players from across the World in the PvP Arena.
HERO
Customize and gear up your Hero/Heroine with +2.000 equipment combinations including weapons, helmets, armors, rings, bracers and necklaces!
STRATEGIC GAMEPLAY
Upgrade and evolve your army for the ultimate battle strategy. Clash in battle utilizing individually unique skilled units; troops, machinery and dragons.
SUMMON BALLS
Go beyond the Land of the Living, summon units from other worlds and crush your enemies!
DUNGEONS
Immerse yourself in the depths of the dungeons and discover highly guarded treasures.
ARENA
Measure your strengths against other players and climb the rankings! Participate in weekly tournaments and win exclusive prizes!
RUNES
These magical items will make your units stronger! They are as powerful as they are scarce.
SPELLS
Create powerful spells to help you against tough foes.
SUPPORTED LANGUAGES
Dragon Ninjas is available in 14 different languages!
English, 한국어, 日本語, 中文简体, 中文繁體, Deutsch, Français, Português, Español, Italiano, Русский, Persian, Türk and ไทย!
***
PLEASE NOTE!
– Dragon Ninjas is free to play, but it contains virtual items that can be purchased for real money.
– Minimum requirement: 768MB Ram, 1GB+ recommended.
– Recommended: Android device manufactured in 2014 or newer.
– Requires online connection to play.
– This game downloads additional content on first launch that can be up to 160MB based on device. We recommend connecting to WIFI the first time you play. Please be patient while it loads (we promise it's worth the wait).
What's New
– New Boss! Face the Kraken in naval combats!
– Crystals + New Crystal Dungeon.
– New Hero Equipment! Rings, Bracers and Necklaces.
– New Spell! (Cleanse)
– Added Persian Language.
Mod info:
– Instant Win[I removed enemy in battlefield] ;p
– Ship Cannon High Range
notes:
Download Playstore Version to pass the tutorial, battlefield, deploy your allies and then instant win

Download [Google Play]
Dragon Ninjas v9.0.2351-PVRTC APK | Mirror 1 | Mirror 2 | Mirror 3

Dragon Ninjas v9.0.2351-PVRTC Mod APK | Mirror 1 | Mirror 2 | Mirror 3