Description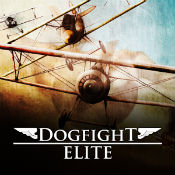 Dogfight Elite v1.0.2 Cracked APK for Android.
Dogfight is a WWI multiplayer flight simulator!
Fly through training levels all the way up to full-blown dogfights against enemy airplanes. Playing alone is fun but the real fun is going multiplayer against your friends.
Watch videos of the game and join the community at http://www.dogfightplay.com
If you have any requests/complains please visit the forums.
I keep track of all requests and complains and fix them on each release.
What's New
– Fixed brake button.
– Fast water similar to the high quality one.
– Added shadows on Android devices that support it.
– Added on settings/graphics to disable the custom keyboard. Some devices won't popup a keyboard when chatting due to different vendor implementations. If you uncheck this option you should be able to chat but the keyboard will take the full screen. My advice is to install the default google android keyboard instead of whatever keyboard your phone manufacturer is using.
Download [Google Play]