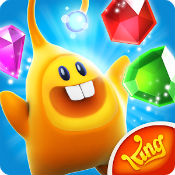 Diamond Digger Saga v1.37.0 Mod APK for Android.
Diamond Digger Saga, from the makers of Candy Crush Saga & Farm Heroes Saga!
Can you dig it?
Join Diggy as you dig through diamonds and unearth special treasures. Epic adventures await you in the lands of Diamond Dale, Turquoise Meringue and beyond.
Diggy finds a treasure map, sparking his underground search for gems! Lead Diggy through a world full of diamonds in this wonderful digging adventure!
Dig a path by clearing away a group of 3 or more diamonds to reach a target score. Use the water to make your way through the rooms and discover treasures!
Unearth gems and rescue fireflies in this beautiful game of wonder and delight.
Take on this delightful Saga alone or play with friends to see who can get the highest score!
Diamond Digger Saga is completely free to play, but some in-game items such as extra moves or lives will require payment.
By downloading this game you are agreeing to our terms of service; http://about.king.com/consumer-terms/terms
Diamond Digger Saga features:
● Bright and colorful graphics
● Friendly and fascinating characters living in a fantasy world
● Color bursts, line blasts and dynamite to lend a helping hand
● Unlock boosters and special treasures hidden beneath the ground tiles!
● Easy and fun to play, challenging to master
● Over 700 levels to complete filled with wondrous delights!
● Leaderboards to watch your friends and competitors!
● Easily sync the game between devices and unlock full game features when connected to the internet
What's New
It's time to get Diggy with it as we're back with a brand new update especially for YOU!
Keep your eyes peeled for the Sparktacular episode, Blazing Blossom! It has 20 NEW LEVELS,
making it 830 levels for you to complete in total. Ach-choo!
Make sure you update the game to the latest version to access all the Diamond Digger Saga new content!
Version 1:
1. Normal moves.
2. Unlimited lives.
3. Unlimited boosters .
4. Unlock all episodes.
Version 2:
1. 200 plus moves.
2. 25 extra move for each new room.
3. Unlimited Boosters.
4. Unlimited Lives.
5. Unlock all episodes.
Method:
1- Download The File to your card.
2- Uninstall / freeze Facebook.
3. Uninstall old version of the game.
5. Install the downloaded file, and connect to Facebook.
Download [Google Play]