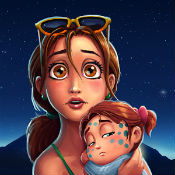 Delicious – Hopes and Fears v8.0 Mod APK + DATA for Android.
Delicious – Emily's Hopes and Fears takes you on an adventure like no other before… During the hottest summer of the century, Paige fights to survive a mysterious disease. While Emily stays unwaveringly by her struggling daughter's side, Patrick embarks on an epic journey through the blistering cold in search of the only cure: a magical flower… Can he save his little girl?
The first 10 levels are free with an in-game unlock for the full complement of levels.
Game features:
– Enjoy the 12th season of the Delicious time management game series
– Dash through 65 stirring story levels, plus 32 extra challenges
– Embark on a spectacular quest with Patrick, and help him puzzle out the location of the magical flower
– Become a star chef, and cook great recipes from kitchens all over the world
– Serve each diner delicious cookies, ice-creams and wonderful waffles
– Collect all stars and discover exciting new restaurants in destinations you've never seen before
5 STARS: "I don't normally buy games, but your games are a big exception. Definitely worth the money, because it's not just talent you bring to the table, but heart as well."
5 STARS: "I'm so excited to have another Emily game. I just love the story lines and the characters. Thank you for another job well done. I own all the Emily delicious games and cannot wait for more."
5 STARS: "I just scared my husband and my four kids. I screamed when I saw the new game was out. LOL! I've been waiting for this and I'm so so so happy!"
Enjoy other Delicious – Emily games:
– Delicious – Emily's Home Sweet Home
– Delicious – Emily's New Beginning
– Delicious – Emily's Honeymoon Cruise
– Delicious – Emily's Wonder Wedding
– Delicious – Emily's True Love
Mod info: Unlocked
Download [Google Play]
Delicious – Hopes and Fears v8.0 Mod APK | Mirror 1 | Mirror 2