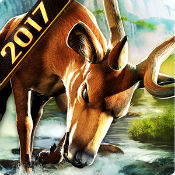 Deer Hunter 2017 v4.0.1 mod apk for Android.
From the creators of Deer Hunter 2014! Return to the wild and hunt across the globe in the world's greatest hunting experience.
HUNT AROUND THE WORLD
Pursue trophies in unique and beautiful locations that span the globe from Alaska to Zimbabwe.
BAG BIG GAME ANIMALS
Hunt animals so real they nearly jump off the screen! Track down and bag the world's most exotic and elusive game.
SHOOT LIKE A PRO
Develop a steady hand, line up your sights, and master the skills to take the perfect shot.
GET THEM BEFORE THEY GET YOU
Take down predators before you become the prey.
COLLECT TROPHIES
Compete for bragging rights and bag the biggest animals with achievements and leaderboards!
BUILD YOUR ARSENAL
Collect and customize your firearms with scopes, magazines, barrels, and stocks as you perfect your weapons for each hunt.
High-end, immersive tablet gameplay!
It's Open Season – join the hunt today!
Deer Hunter 2016 is free to play, but you can choose to pay real money for some extra items.
Use of this application is governed by Glu Mobile's Terms of Use. Collection and use of personal data are subject to Glu Mobile's Privacy Policy. Both policies are available at www.glu.com. Additional terms may also apply.
WHAT'S NEW Deer Hunter 2017
Underwater Spearfishing – Introducing an all-new way to hunt!
• Explore a mysterious new world – Dive into the Great Barrier Reef, Red Sea, Caribbean Basin and other exotic areas
• Hunt 100+ new species – Encounter menacing sharks and rare and exotic fishes
• New weapons and equipment – Upgrade your gear, adapt to underwater physics, and shoot your biggest bounty yet!
• Immerse yourself in this incredibly detailed and exciting new gameplay experience!
• New holiday themed event and weapons
Mod info:
1.Inf. gold
2.Inf. energy
3.Inf. ammo
Downloads: [Google Play]

If you got stuck on loading screen, then go to play store download DH 2017, then install the mod.
[toggle title="Old Versions" state="close"]
4.0.0 mod info:
1.) gold
2.) platinum
3.) hunter bucks
4.) vouchers
5.) energy
6.) ammo
7.) infinite battery
8.) level max 200
9.) unlocked all regions
10.) no ads
Deer Hunter 2017 v4.0.0 Mod APK | Mirror 1 | Mirror 2 | Mirror 3
Deer Hunter 2016 v3.0.3 mega mod info:
1- Animals can't attack
2- Unlimited Ammo – Increase when use
3- 1 Hit Kill
4- Max Stability
5- No Recoil
6- Signature Bypass
7- Instant Reload
8- No Sway
9- Suppression Bullets
10- Fast cookspeed
11- Variable Zoom Enable
13- Unlimited Infrared
DOG STATS
1- Max Strength
2- Max Agility
3- Max Constitution
4- Max Hear
5- Max Vision
Deer Hunter 2016 v3.0.3 Mod APK | Mirror 1 | Mirror 2 | Mirror 3
[/toggle]