Description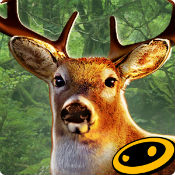 DEER HUNTER 2014 v2.11.6 Mega MOD APK for Android.
Return to the wilderness in the most visually stunning FPS hunting simulator on Android!
Travel from North America's Pacific Northwest to the Savannah of Central Africa in an epic journey to hunt the world's most exotic animals!
"Great shooting mechanics and lush visuals" – Modojo
"Bite-sized missions are perfect for a fast fix" – Kotaku
"I was more than pleasantly surprised" – Arcade Sushi
EXPLORE A LIVING WORLD
Immerse yourself in diverse environments filled with over 100 animal species! Watch out for attacking predators including bears, wolves, and cheetahs! Hunting deer is just the beginning!
MAXIMUM FIREPOWER
Enjoy endless customization as you perfect your weapons. Upgrade magazines, scopes, stocks, barrels and more! Take hunting to the next level!
COLLECT TROPHIES
Compete for bragging rights as you bag the biggest animals with Google Play achievements and leaderboards!
It's open season join the hunt today!
Developed for fans of FPS games, Hunting Simulators, and the Deer Hunter franchise.
Mega Mod Info
Unlimited Money
Unlimited Glu Credits
Unlimited Platinum Eagles
Unlimited Hollow Points
Unlimited Sports Drink
Unlimited Energy
What's New
Bug fixes and other improvements to game performance
How to Install?
Download & Install the Apk from the links given below
Done ! Enjoy
Download & Links [Google Play]