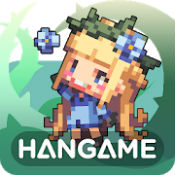 Crusaders Quest v4.4.7.KG Mod APK for Android
[Season 2: Inheritance Update]
Classic retro RPG that will bring back your childhood memories!
Crusaders Quest Season 2 begins now.
▶Our beautiful retro pixel art will take you back in time!
Immerse yourself in the cute pixel graphics and flashy action gameplay of more than 700 different 8-bit Heroes!"
▶Enter the vast world of Crusaders Quest flush with captivating stories that will engage you to no end!
Defend the land of Hasla and its Goddesses from the forces trying to bring it to ruin! Some may even find hidden stories about the Haslan Heroes from the library!"
▶Exciting Skill Block Play! Enjoy the simple, yet strategic match-3 skill block controls. Turn the tides of battle with the Goddesses' skills in critical moments, as well as figure out the infinite synergies between the hundreds of Heroes!
▶Break the limits of hero growth through Inheriting and Inlaying. Overcome Challenges to get Secret Books to tap the ancient power sleeping in your heroes. Rediscover the ancient blacksmithing method, Inlaying, to further upgrade your weapons!
▶Conquer PVP! Ancient Dungeons! And Even World Boss Raids!
Conduct realtime PVP in the Colosseum to find out who is really the strongest in all of Hasla!
Visit Ancient Dungeons filled with rewards and World Boss Raids where you take down massive monsters with 6 heroes!
– Crusaders Quest Official Facebook Page : https://www.facebook.com/CrusadersQuest/
Crusaders Quest game requires the following permissions. We will never ask for more permissions than absolutely necessary for the smooth service of our game.
– Read and write to external storage (WRITE_EXTERNAL_STORAGE / READ_EXTERNAL_STORAGE)
To save/read Crusaders Quest data in/from the external storage and to allow users to attach files for customer service requests.
– Read Device Status (READ_PHONE_STATE)
To verify/confirm user's device and SIM information.
– Google account information (GET_ACCOUNTS)
To verify user's Google account.
What's New in Crusaders Quest v4.4.7.KG
– 3 New Heroes ADDED
– 3 New Soulbound Weapons ADDED
– 6 New Skins ADDED
– New Hero Home Items ADDED
– UI/UX IMPROVED
– Balance ADJUSTED
– App Icon CHANGED
Crusaders Quest v4.4.7.KG Mod Info:
v1:
God Mode (Immortal) (Only for your heroes)
v2:
1. God Mode (Immortal) (Only for your heroes)
2. 1 Hit Kill
NOTES:
Now it work all of mode game, Don't use this mod in Colosseum/Fortress of Souls. High ban risk
World Boss use Google Play Services, only Root version can access.
Not responsible for any banned accounts.
Common Unzipping Stuck Problem
This happens because your Phone/Tablet has run out of space, CQ takes up 1.4gig roughly of space, so I would high recommend at least having 1.5-1.6 gig free of internal memory (NOT SD CARD MEMORY).
[ads1]
Downloads: [Google Play]

Root required! They have added Appguard to the game.
[toggle title="Old Versions" state="close"]
Crusaders Quest v3.9.5.KG Mod APK v1  | Mirror 1 | Mirror 2 | Mirror 3

Crusaders Quest v3.9.5.KG Mod APK v2 | Mirror 1  | Mirror 2 | Mirror 3
Crusaders Quest v3.0.12.KG Mod APK v2 – No Root | Mirror 1 | Mirror 2 | Mirror 3

Crusaders Quest v3.0.12.KG Mod APK v2 – Root | Mirror 1 | Mirror 2 | Mirror 3
[/toggle]