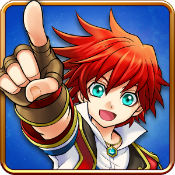 Colopl Rune Story v1.0.61 Mod APK for Android.
* Engaging Story Quests *
Complete quests that will reveal Rune Story's mystery with hours of intriguing gameplay.
* Real-Time Co-Op Action RPG *
Perform magnificent combo attacks that will surpass regular puzzle-solving, dragon-fighting games and control all movements, actions, and skills from the palm of one hand.
* Over 100+ Unique Characters to Play *
Unlock hundreds of characters and weapon combinations within six classes – Fencer, Lancer, Warrior, Brawler, Sniper, Mage.
* Fight Epic Bosses With Your Guild *
Become the strongest guild! Accumulate Guild Points in co-op quests to obtain special rewards.
* Build Your Own Unique Town *
Build and upgrade your town to harvest resources to level up and train your team.
Legend has it that runes imbued with ancient magic fell from seven elder runes in the sky centuries ago, but few remain. Airships fly the skies between the flying island Astora and the world's other countless islands. Use the wondrous rune compass to guide your path as you attempt to uncover magical runes and journey to The World's End, a place no one has ever reached.
Create your own Rune Story now with hundreds of heroes ready to battle at your fingertips! Venture on an epic adventure with your friends, make your own society, and experience a deep action-role playing game! Become a powerful hero and unravel the mystery that all begins with a talking cat…
COLOPL NI presents Rune Story! Based on White Cat, the massive hit RPG from the anime capital of the world Japan, Rune Story will take you on a role-playing fantasy unlike any other.
What's New
Nightmare mode: Certain events will have an even harder difficulty to challenge for greater rewards!
Lancer update: Stronger shields for those defensive characters! Recover SP when taking damage, and get the upper hand with a perfectly timed guard!
Colopl Rune Story v1.0.60 Mod Info:
Unlimited SP
HP Limit Maxed (Pushed to 9999)
High Damage
No Fainting
No Knock Downs
Cheat Detection Removed
* HP is not Unlimited.
Colopl Rune Story v1.0.59 Mod Info:
Unlimited HP
Unlimited SP
High Damage
v1.0.61 mod info:
1. Massive Damage.
2. Mobs Disarmed.
3. Healing Skill Multiplier.
4. Infinite Mana. [ Never Decreases ] – Spam Skills
5. Signature Protection Bypassed.
6. Cheat Tools Bypassed.
7. Libs bypass

Download [Google Play]
v1.0.61 Mod fixed. Now working properly