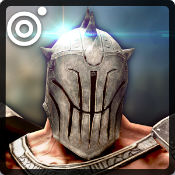 Codex: The Warrior v1.25 Mod APK for Android.
Codex The Warrior is the ultimate Action/Role-playing game. Fight gruesome enemies 1v1 as you advance through levels of a treacherous dungeon. Discover weapons of immense power to aide you on your quest. Forge your weapons and armor to make them even more powerful. Learn incredible skills to upgrade and use in combat. Codex delivers stunning visuals and responsive combat to immerse you in a deep fantasy world.
In ancient times the great Guardians of Codex, the source of ultimate power, were betrayed by Tiraz, a fellow Guardian. Tiraz sought to take the power of Codex for himself, but the others managed to send it to the human realm in hopes of hiding it. Tiraz followed Codex into our world and in his lust for power, brought about untold destruction. You are the last of the Bargandians, a warrior race that was all but destroyed by Tiraz. It is up to you to find Codex to stop Tiraz from destroying our world, and to get vengeance for the destruction of your family and home.
FEATURES:
– Incredible console-quality graphics.
– Exhilarating 1v1 dungeon combat that will leave you breathless.
– Unique monsters and level bosses with eye-popping custom animations.
– Deep combat with upgradable skills to help you defeat Tiraz.
– Hundreds of weapons and armor that can be upgraded and crafted to increase your power against the endless demon hordes.
– Responsive and intuitive controls to ensure you show off your full skills.
– Regularly updated with new content, new weapons, and new demonic enemies to destroy!
What's New
. Increased the level limit of the Infinite Tower
. Players can now initialize the Infinite Tower themselves
. Added a "Contact Support" button in the options (Added for iOS now)
Mod info:
1. Massive Damage. 
2. God Mode.
3. Instant Rage Bar fill. [ Works sometimes ]
4. Mobs Disarmed. 
5. Root Detection Bypassed,
6. Cheat Tools Detection Bypassed. [ Game Killer, Game CIH, SBGH etc… ]
7. Signature Verfication Bypassed.
8. Cheat Detection Bypassed.
9. Anti – Ban.
Download [Google Play]