Description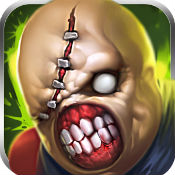 City of Mutant v1.1.31 APK For Android.
City of Mutant is a Real-Time Strategy zombie card mobile game.
Abandoning the traditional PVP card game mode , We combines the original dot-dash, unlimited free walk and release skills. Also with unique art style and novel strategy plays, bring you different game feelings.
Come and join us now!
Features
-Original Dot-dash combination, free walk
360-degree full-screen slide unrestricted freedom to walk and release skills, hands or auto, depends on your own.
-Various battle modes
We have plenty of battle mode, strive to meet the various needs of players, make players filled with the feeling of novelty!
-Legend Heroes, Powerful Boss invasion
Powerful BOSS allied invasion, summon former friends, face the crisis together.
-Multidimensional growing system
We comprising a plurality of grow lines, every battle the players can choose different equipments and heroes
What's New
1.Optimize the page display of game
2.Enhance the stability of all severs
Download [Google Play]
Need a mod for City of Mutant v1.1.31? Let us know!