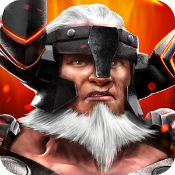 ChronoBlade v1.1.3 Mod APK for Android.
Put your fighting skills to the test. ChronoBlade is the only side-scrolling RPG brawler featuring explosive arcade-style combat, and real-time synchronous PvP action.
Explosive Skill-Based Combat
Each character has over 30 punishing ground and air attacks for you to chain together for insane combos. Master the controls to dodge, block and counter attacks.
Dominate in Real-Time Synchronous Battles
Crush your competition in synchronous PvP battles. Your skill and timing are key in this competitive action game.
Your Character. Your Style.
Play as any of the four main characters throughout the game. Outfit your hero with custom equipment for strategic upgrades. An open-ended progression system lets you build the ultimate character personalized to your play style.
Mod info:
– 1 Hit K.O
– Enemies don't attack
– Cheat detection disabled
– Not tested on pvp ( probably don't work)
How to install?
1.Download Original APK from below to bypass tutorial.
2.Download and install the mod apk from below(no needed to uninstall the original,it will overwrite). You don't need obb file, but you need to download about 120MB additional resources via in-game.
Root required? No, works on both rooted and unroot Android 4.0.3+
Login? You can login with Google Play but root is required! Or play as Guest.
[ads1]
Download [Google Play]
ChronoBlade v1.1.3 Original APK