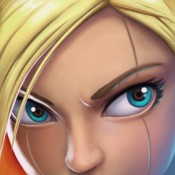 Chrono Strike v1.0.1 Mod APK for Android.
Chrono Strike is a futuristic 3D action-packed fighting game that pits you against an endless army of killer robots. Assemble a team of elite heroes and beat over 100 levels of enemies. Do you have the skills to win?
SKILL-BASED COMBAT
Unleash deadly attacks against waves of enemies using controls that are easy to learn but hard to master. Strike when your enemies are in range or risk being overwhelmed by your foes.
FIGHT VICIOUS ENEMIES
Destroy a wide range of deadly machines that have taken over the planet. Each has a unique fighting style that you will need to adapt to and overcome.
ASSEMBLE HUMANITY'S LAST HOPE
Five special heroes is all that stands against humanity's extinction. Train each hero to unlock special abilities that will turn the tide of battle.
What's New
– Performance improvements and bug fixes
Mod info:
1. 1 Hit Kill. [Doesn't show Massive Damage]
2. Enemy Damage set to 1.
3. God Mode.
4. Mobs Disarmed. [Their attack range is 0, but very rarely they attack]
How to install?
1. Uninstall all previous versions.
2. Download Mod Apk.
3. Install Mod apk.
4. Enjoy
Download [Google Play]