Home /
Mods /
Champ Man 16 v1.2.0.126 Mega Mod APK
Description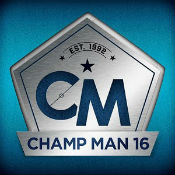 Champ Man 16 v1.2.0.126 Mega Mod APK for Android.
CHAMP MAN 16 – ENJOY THE BIGGEST EXPANSION TO THE MOBILE GAME WITH THE FOLLOWING EXCITING NEW FEATURES:
– Now bigger than ever – Expanded to 20 seasons
– Apply for new jobs or receive offers by other teams
– Brand new Objectives system
– Improved Matchday Graphics
– Includes all the latest transfers following the closure of the transfer window
– Includes Singapore & Australian leagues
– Includes South American & Asian Champions Cups
The world famous Football Management game just received a major upgrade, with tens of thousands of real players available to sign and over 450 clubs from 25 playable leagues to manage – it's time to LIVE THE DREAM and take control of your club.
Nurture and develop your players, design training programmes for the team or target individuals for specific work, choose formations, give tactical instruction and then watch how all of this affects your overall team performance on match day..!
Champ Man 16 delivers the emotion and tension of what it takes to be a real football manager – all at your fingertips.
What's New
The latest game update is now live, including:
– Updated player database with all the latest transfer window activity
– Improved player development and generation
Remember, as the legendary Bill Shankly once said, 'A lot of football success is in the mind. You must believe you are the best and then make sure that you are.'
Champ Man 16 v1.2.0.126 MOD:
Unlimited Coins
Unlimited Cash
Unlimited Upgrades
Unlimited Hiring
Unlimited Training
Requires Android: 2.3 and Up
Version: v1.2.0.126
MODE: OFFLINE
Downloads: [Google Play]

Champ Man 16 v1.2.0.126 mod apk | Mirror 1 | Mirror 2