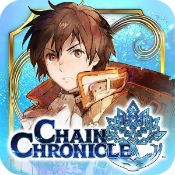 Chain Chronicle v2.6.4 MOD APK for Android.
CHAIN CHRONICLE HAS ENTERED ITS SECOND YEAR. NOW FEATURING NEW QUESTS, NEW CHARACTERS, AND IMPROVED RECRUITING RATES. SEE THE "WHAT'S NEW" SECTION BELOW FOR MORE INFORMATION.
DESCRIPTION
————–
Assemble and lead an army in forging your own story in this first-ever line defense role-playing game with over 5 million downloads worldwide! Thank you for your support, captains.
Master a combination of strategic and action-based gameplay as you control a captain in charge of leading a Volunteer Army in protecting Yggdra against the invading Black Army.
Chain Chronicle v2.6.4 MOD APK FEATURES
●Engage in tactical real-time strategy battles! Experience an awesome mix of tower defense and RPG combat action!
●Multiple gameplay options! Solo your way through Chain Chronicle's massive story, or face off against other captains in one of two PVP modes to climb the ranks and receive glorious prizes (PvP is exclusive to the global version of Chain Chronicle)
●Recruit from over 300 unique allies (some exclusive to this version of Chain Chronicle), each with a variety of abilities! Command and unleash the full potential of your knights, wizards, clerics, archers and soldiers!
●Further enhance your army by equipping your warriors with weapons which can be found in Yggdra, won from competitions or crafted via the Blacksmith feature (unique to the global version of Chain Chronicle).
●"Awakened" characters & new mission system: The latest update of Chain Chronicle allows you to recruit 4 to 5 star versions of past starter units. New alternate objectives in missions let you reap bigger rewards if you're diligent enough.
REVIEWS
"[If] Chain Chronicle represents the caliber of game that we can expect from SEGA and Gumi, we are in for some treats. Chain Chronicle is both extensive and fun…" –Gamezebo
"Chain Chronicle is a charming, entertaining, and effectively endless game…"-Digitally Downloaded
"Chain Chronicle is an absolute must-play. Sega and Gumi did a really good job with this game, and I'm actually quite excited to hear that they have tons more content in store…" –MMOHut
Chain Chronicle is completely free to play. However, some in-game purchases are available. If you do not wish to use this feature, please disable in-app purchases in your device's settings.
What's In Chain Chronicle vv2.6.4 MOD:
1. damage 3x – works in colosseum and against demon boss (for colosseum use skill to kill enemy – against demon boss the time will be extended to 999 seconds so you'll have all the time to kill him/her and you can help friend without show too high damage)
2. enemy damage 1 hp
3. gauntlet autokill
4. infinite mana
5. last bonus everytime active
6. demon raid time extended to 999 seconds
7. autokill (works in normal mission and demon raid – NO DEMON BOSS)
8. enemy doesn't use skill in colosseum
9. battle 2x speed now is ultra fast
Requires Android: 2.3.3 and Up
MODE: ONLINE
Downloads:
Chain Chronicle v2.6.4 MOD APK | Mirror 1 | Mirror 2

Chain Chronicle v2.0.20.3 MOD APK | Mirror 1 | Mirror 2 | Mirror 3