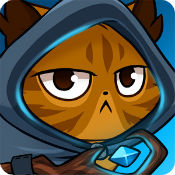 Castle Cats v1.4.6 Mod APK for Android.
Manage your very own guild of cat warriors in Castle Cats! Help Conan the Knight, Catniss the Archer and Francis the Mage put an end to The Evil Pugomancer's reign once and for all! :3
YOU'RE THE GUILD LEADER OF CATS
– Recruit over 60 unique cat-heroes! Each with their own skills and traits!
– Send out your recruits on heroic quests to restore Catania!
CATS ARE MAGIC
– Use Alchemy to craft the most unique of cats to your guild!
– Spend your hard-earned loot to Upgrade and Evolve your cat-heroes and guild!
– Cats fly, are snarky and burst into random frenzies. Deal with it!
OVER 100 STORY QUESTS TO COMPLETE
– The Evil Pugomancer won't go down without a fight! Join the battles or chill – it's all up to you!
– Participate in Monthly Events with brand new heroes and additional Story Quests!
What's New
**ANNIVERSARY EVENT**
– Come celebrate Castle Cats' first anniversary with:
– Special Quests!
– 21 returning Event Heroes!
– The Armory: the ability to change outfits of your Heroes!
Mod info:
– Cheat Menu
Unlimited Gems
Unlimited Golds
Unlimited Energy
And many more
Credit: Peek-A-Boo
[ads2]
How to use the Mod: 
After loading the game, a green square (a smiley face) will appear on the screen: tapping that will open the Cheat Menu, which can be used anytime, even during battles. 
Set the quantity of any game's item, up to the current allowed maximum 
Gold, Gems, Energy, Potions, Cat Tickets, Souls, Materials 
Add random quest in an empty slot 
Instantly complete active alchemy 
Set Guild level, visual effect may require a restart 
Add random cat of chosen quality 
Common, Rare, Mythic 
Install Steps: 
Download and launch the APK file; 
The game can be played offline. 
*Notes* 
This Cheat Menu, as every other, is made as GUI: it lets the touches pass through and reach the game beneath; if you notice this, know that it's totally normal. 
With this MOD it is possible to edit almost everything of the game: enjoy it in the way you like!
Root required?
No,works for both rooted and unroot devices on Android 4.2 and up.
[ads1]
Download [Google Play]
Castle Cats v1.4.6 Mod APK | Mirror 1 | Mirror 2 | Mirror 3