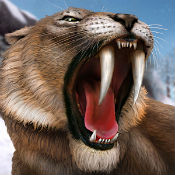 Carnivores: Ice Age v1.5.5 Mega Mod APK for Android.
Epic winter hunting finally on Android!
Carnivores: Ice Age throws you onto a recently discovered planet to test your aiming and tactical skills on a realistic ice safari. The game delivers an intelligent hunting experience and offers a lot more than a visit to a shooting range. Unrivaled possibility to wander around open 3D world without limits makes the process of finding prey exciting and the whole game endlessly replayable.
The hunter, equipped with weapons and all sorts of hunting accessories like camouflage and cover scent, needs not only to be quiet as a mouse when approaching a saber-tooth beast but also take care of details like wind direction not to end up as animal's dinner. Advanced AI of the animals turn them from dummy targets to aggressive hosts protecting their planet and add a shooter feeling to the gameplay.
Pack your things and start hunting in Carnivores: Ice Age if you are ready to explore the new huge world and think before you shoot.
The game features:
• Huge 3D world open for exploration
• True-to-life hunting experience
• 3D animals, from common Saber-tooth Tiger to mysterious Woolly Rhinoceros
• 5 maps with different landscape and climate
• Hunting accessories to be used for smart hunting
• Interactive Trophy room
• HD graphics
• Hours of nostalgia for those who remember playing it on their PC
What's New
– Android 5+ crash fixed!
– Minor bug fixes and improvements
Thank you for playing Carnivores! Don't forget to check out Carnivores: Dinosaur Hunter which will plunge you into the world of dangerous and witty dinosaurs. Dinosaur hunting will become a real challenge for you, since there's only one way to get a ruthless T-Rex in your trophy room: shoot him in the eye!
Mod info:
1. Infinite ammo
2. Super speed (aim to go slower)
3. Super jump
4. Unlock all areas
5. Unlock all animals
6. Unlock all weapons
7. Animals never get scared
Download [Google Play]
Carnivores: Ice Age v1.5.5 Mega Mod APK | Mirror 1 | Mirror 2