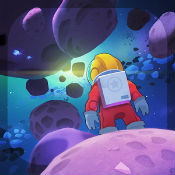 Captain Cowboy v1.21 Cracked apk for Android.
– Explore a huge handcrafted world
– Get lost in your quests for diamonds
– Get back on track with the handy automap
– Find the mysterious exit warp room
– Cross paths with friendly Snorkhogs and dangerous Gnurfs!
– Create avalanches of falling rocks in front of motion sensitive laser turrets
– Explore the underwater caverns with quite impressive water physics
– Visit the secret space station Discotek
– Simulated 8 bit char based videochip using 1008 volumetric parallaxed tiles on screen and a quirky CRT-shader
All in this little one handed portrait puzzle adventure featuring no in-App purchases, no advertising and extra continues are included in the price. And no tutorial! It's just you and the Game. Go for it!
Created in Vislanda, Sweden by Wadonk AB.
What's New
– finetuned blur for 480dpi devices.
If you find the crt-filter too blurry or too sharp ( almost like a visible grid )
Please contact us so we can finetune for your device. Sorry for chaos, but Android is such a huge platform to cover and we want you all to have a perfect experience!
Download [Google Play]
Captain Cowboy v1.21 Cracked APK | Mirror 1 | Mirror 2